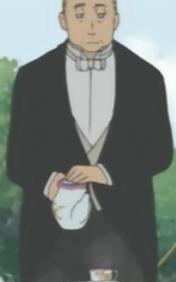 A butler or something is seen pouring tea for Dorothea's husband.
In episode 16 he and Mrs. Wieck discuss the upcoming trip to England with Hans and Emma.
This guy might be named Bruch.
Ad blocker interference detected!
Wikia is a free-to-use site that makes money from advertising. We have a modified experience for viewers using ad blockers

Wikia is not accessible if you've made further modifications. Remove the custom ad blocker rule(s) and the page will load as expected.