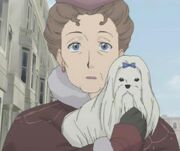 The dog lady (and her dog) is a helpful person that Will meets in episode 21. The converse on the street as he is pestering Emma. She finally allows Will into her apartment so he can shout to Emma from higher up.
Ad blocker interference detected!
Wikia is a free-to-use site that makes money from advertising. We have a modified experience for viewers using ad blockers

Wikia is not accessible if you've made further modifications. Remove the custom ad blocker rule(s) and the page will load as expected.