Summary

Emma is a historical romance manga by Kaoru Mori. It tells the story of Emma, a maid who works for retired governess, Kelly Stownar. One day, one of Kelly's former students comes by to pay a courtesy visit; William Jones, the eldest son of a rich merchant. When he sees Emma, he becomes smitten with the reserved maid and Emma soon falls for the awkward gentleman. However, due to their different classes, the two of them cannot be together...
The manga was later given an animated adaption in Emma – A Victorian Romance and Emma – A Victorian Romance: Second Act.
Random Article

William Jones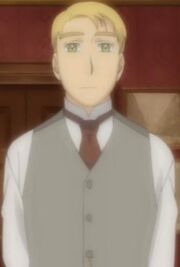 William Jones is the male protagonist of the story.
---
William is the eldest son of Richard Jones, a wealthy merchant. One day, he goes to visit his former governess when he meets Emma. He soon falls in love with her and does his best to win her heart, even though she is but a mere maid.
Read more...
Official Links