Grace Jones


Vital statistics
NAME
Grace Jones
GENDER
Female
DEBUT
{{{deb}}}
OCCUPATION
Aristocrat
HAIR COLOR
Blonde
EYE COLOR
Blue
FAMILY
Jones
STATUS
Active
LOCATION
England
Voice
ENGLISH VOICE
{{{evoice}}}
JAPANESE VOICE
Sayaka Ohhara
Grace
is the elder of
Will
's two sisters. She and Eleanor are good friends so when she learns that William broke off the engagement she's horrified and says that William disgusts her. When William and Emma decide to try to make things work he brings her to the mansion to meet his father. When Grace finds out that Emma there she becomes angry when she realizes that Eleanor was a distraction for him and that he wasn't really serious about the engagement.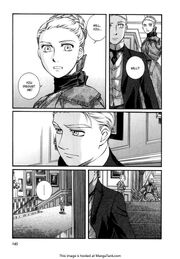 Ad blocker interference detected!
Wikia is a free-to-use site that makes money from advertising. We have a modified experience for viewers using ad blockers

Wikia is not accessible if you've made further modifications. Remove the custom ad blocker rule(s) and the page will load as expected.