Jan is a character in episode 13 credited as being voiced by famous (female) voice actress Rie Kugimiya. More information as to her identity is unclear.
In episode 14 a girl refers to Jan by name at 16m50s, telling him to quit drinking and come dance. It is pronounced "Yan".
Girl girl pulling him may be named Ida. cancel that it's Polly
He and Thomas are mentioned 5m10s into episode 16 as being wanted to go to England and Hans and Emma were chosen by Dorothea in addition to them.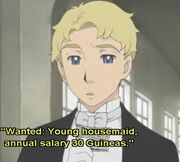 In episode 16 Polly (hard to recognize her as the girl pulling him around) is seen talking to him about a job she wants to apply for in England. He reads the employment details.
Polly tells Jan they might need a footman too, so that is his job.
Both dreams are dashed later when Hans explains that it is a scam.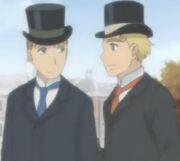 Blonde-haired Jan is later seen accompanying the brown-haired Thomas, both wearing top hats, as they run off to tour England in episode 17.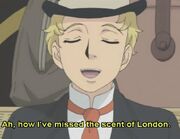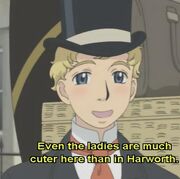 Ad blocker interference detected!
Wikia is a free-to-use site that makes money from advertising. We have a modified experience for viewers using ad blockers

Wikia is not accessible if you've made further modifications. Remove the custom ad blocker rule(s) and the page will load as expected.