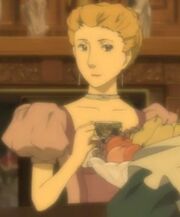 Lady Primdale is one of the madam's friends introduced in episode 13. She had given her a fan as a gift, and it was stolen but luckily relocated before her next visit. She was pleased to see her friend still had it.
Voiced by Fumiko Ohsaka.
Ad blocker interference detected!
Wikia is a free-to-use site that makes money from advertising. We have a modified experience for viewers using ad blockers

Wikia is not accessible if you've made further modifications. Remove the custom ad blocker rule(s) and the page will load as expected.