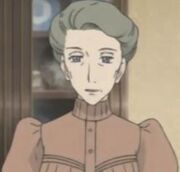 Mrs. Wieck is the head housekeeper in the Madam's household, who is kept around for her inclination towards speaking her mind. She is suspicious when Emma is fired, and wants to fire a thief who is taken pity on.
Voiced by Akiko Takeguchi.
Ad blocker interference detected!
Wikia is a free-to-use site that makes money from advertising. We have a modified experience for viewers using ad blockers

Wikia is not accessible if you've made further modifications. Remove the custom ad blocker rule(s) and the page will load as expected.