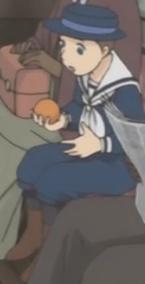 The orange kid is seen ~12m into episode 12. He initially wants to go up on the second level of a bus but it is full. He is sitting on the bottom level of the bus with Emma, and when he drops his orange on the floor, this distracts her and RUINS EVERYTHING.
Ad blocker interference detected!
Wikia is a free-to-use site that makes money from advertising. We have a modified experience for viewers using ad blockers

Wikia is not accessible if you've made further modifications. Remove the custom ad blocker rule(s) and the page will load as expected.