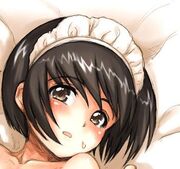 Shirley Medison is a maid star of 2 other manga series by Kaoru Mori, this one set during the Edwardian period rather than the Victorian one.
Her series began as doujinshi published 2000-2001 called by her full name, later compiled into a volume by Enterbrain called "Shirley"in 2003. CMX later re-interpreted her surname as 'Madison'. A total of 7 chapters were made.
In 2006 the author released 2 more chapters under the 'Medison' title again, followed by another pair in 2010, a third pair in 2013, and a fourth pair in 2014, for a total of 8 chapters, later compiled as "Shirley" volume 2.
External links
Edit
Ad blocker interference detected!
Wikia is a free-to-use site that makes money from advertising. We have a modified experience for viewers using ad blockers

Wikia is not accessible if you've made further modifications. Remove the custom ad blocker rule(s) and the page will load as expected.